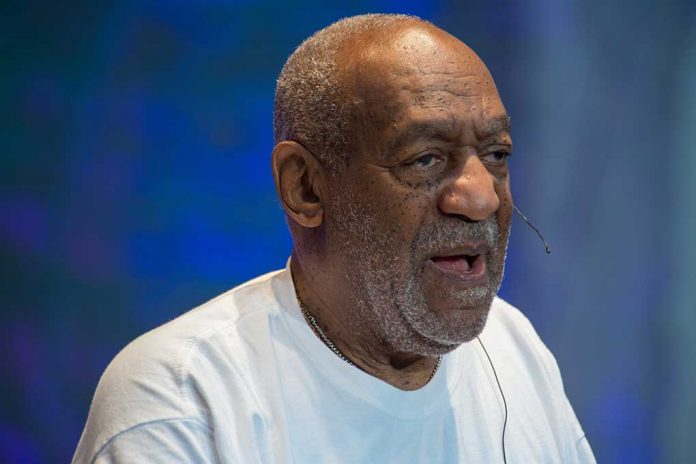 (UnitedHeadlines.com) – Comedian Bill Cosby was once "America's Dad." Now, he's the butt-end of jokes as the world sees him as a sexual predator. However, after a short stint in prison, Cosby appears to be getting back to business as usual. Is it true, or is he simply trying to keep up appearances?
Getting Back in the Saddle
A spokesperson for Cosby, Andrew Wyatt, claimed the aging actor has been spending a lot of time on the phone at his Massachusetts home, working on projects. According to his representative, Cosby is working on several projects, including a book deal and a possible new television show. Wyatt also said Cosby speaks with producers every day to give his creative input. Wyatt refused to offer specifics, saying Cosby and his team are laying low for the time being.
Even Bars Can't Stop Cosby
Wyatt recently told Fox News that Cosby started speaking with Hollywood producers while he remained in prison at the Phoenix State Correctional Institute (SCI), located in Collegeville, PA. However, Wyatt confirmed that Cosby's interactions with producers and other potential business associates faced hurdles due to the condition of his confinement. For instance, prison officials limited his communications to outside sources to two or three times a week.
Fresh Out of Prison
On June 30, 2021, the Pennsylvania Supreme Court vacated Cosby's conviction and ordered his immediate release on a technicality. The court also barred future prosecution for the same offense. Cosby expressed his joy upon his release, according to Wyatt. The spokesperson stated that the first night Cosby was released, he was already doing comedy routines, noting that the comedian was eager to return to the stage.
Court Issues
Cosby's legal troubles aren't over yet, however. He still faces a lawsuit in Los Angeles over an unrelated sexual assault allegation. His accuser, Judy Huth, filed the lawsuit in 2014, alleging that Cosby sexually assaulted her in 1974 during a visit to the Playboy Mansion.
The court already conducted hearings on the matter. The next hearing dated is set to occur on September 30. Gloria Allred, Huth's attorney, conceded that Cosby's attorneys entered some valid claims in their rebuttal to her client's allegations. On the other hand Jennifer Bonjean, Cosby's attorney, says she fully expects to see her client fully vindicated and cleared of charges from the Playboy mansion case.
Copyright 2021, UnitedHeadlines.com