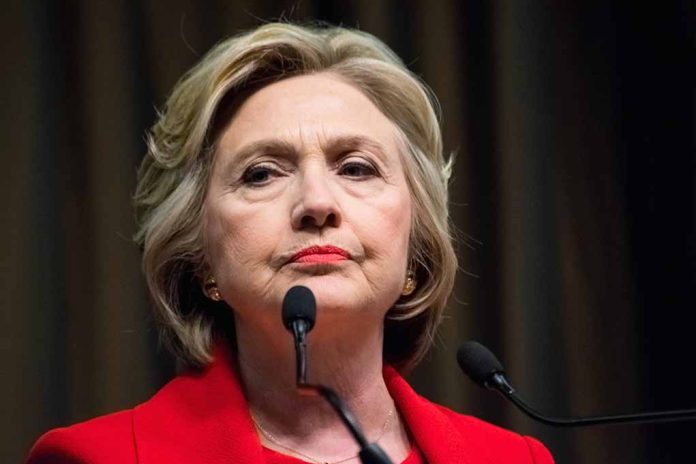 (UnitedHeadlines.com) – A recent report from Special Counsel John Durham claims to have evidence tying Hillary Clinton to spying on former President Donald Trump during his 2016 campaign and after his inauguration. In a White House briefing, one journalist repeatedly pushed for details of the report, causing a Biden spokesperson to snap and sternly deflect the questions.
'I can't speak to that': Biden's Deputy Press Secretary Karine Jean-Pierre tells reporter THREE times to go to DOJ when pressed on Durham's bombshell allegations that Hillary spied on Trump when he was President- and that Biden and Obama KNEW https://t.co/RCf6gq5eAt

— Tom Fitton (@TomFitton) February 15, 2022
Fox News correspondent Jacqui Heinrich initially asked two questions seeking information related to the new Durham filing. In response, Deputy Press Secretary Karine Jean-Pierre claimed that she couldn't comment on the matter and directed the reporter to the Department of Justice (DOJ).
Heinrich wasn't quite ready to give up yet and fired off another question. After the third inquiry, the Deputy Press Secretary frustratingly repeated her previous stance, asserting her answer wasn't going to change no matter how many times the reporter rephrased the question.
Durham is investigating the Trump-Russia probe after William Barr, former US Attorney General under Trump, nominated him to serve as a special counsel to the DOJ. His recent filing appears to confirm the past president's accusations that the Clinton campaign spied on him. Trump claims Clinton created a fake narrative that he was colluding with Russia ahead of the 2016 presidential election. It's starting to look as though he was right all along.
Copyright 2022, UnitedHeadlines.com