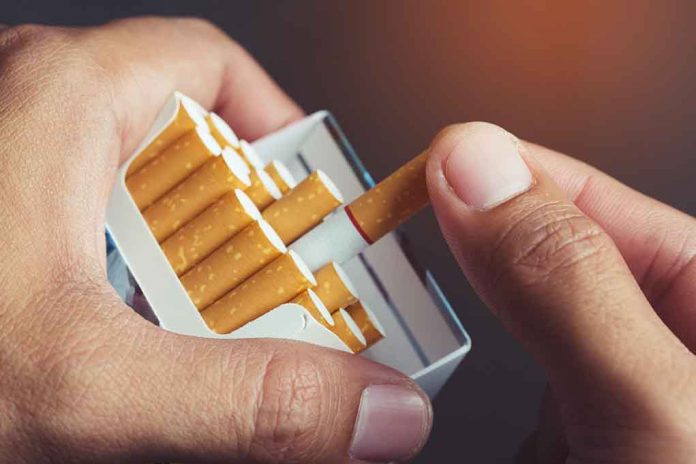 Biden Is Coming For One The Oldest Goods Sold In Stores — Another Prohibition Era?
(UnitedHeadlines.com) – On the campaign trail, Biden asserted he would reduce the number of Americans getting cancer. To achieve this lofty goal, the president has all but declared war on the multi-billion dollar tobacco industry. But will this new prohibition work?
The Biden admin wants to make the tobacco industry cut back the amount of nicotine in cigarettes sold in the U.S. to non-addictive levels.

The FDA has proposed a rule to set a maximum nicotine level in cigarettes and other products.

via @TreedinDC @axioshttps://t.co/697KU4227S

— Oriana González (@OrianaBeLike) June 22, 2022
The president has already pushed for a ban on menthol cigarettes, which the Food and Drug Administration (FDA) plans to implement alongside flavored cigars. With this victory under his belt, Biden is shifting targets, aiming to force the tobacco industry to reduce the amount of nicotine in their products to virtually nothing.
According to an FDA study from 2018, Biden's plan could work, leading 13 million people to quit smoking within 5 years of its implementation. This would drastically reduce the number of Americans at risk of developing cancer. While this seems like great news, it does come at a cost.
Representatives of the tobacco industry claim the president's proposal will result in the loss of hundreds of thousands of jobs. Guy Bentley, Reason Foundation's Director of Consumer Freedom, believes that Biden's proposals won't last the test of time. Bentley asserts that the ban on cigarettes and flavored cigars reflect the prohibition of alcohol in the 1920s, which ultimately failed alongside the 18th Amendment.
Do you believe Biden's plan will save lives, or is it simply another attempt to steal away freedoms from the American public?
Copyright 2022, UnitedHeadlines.com