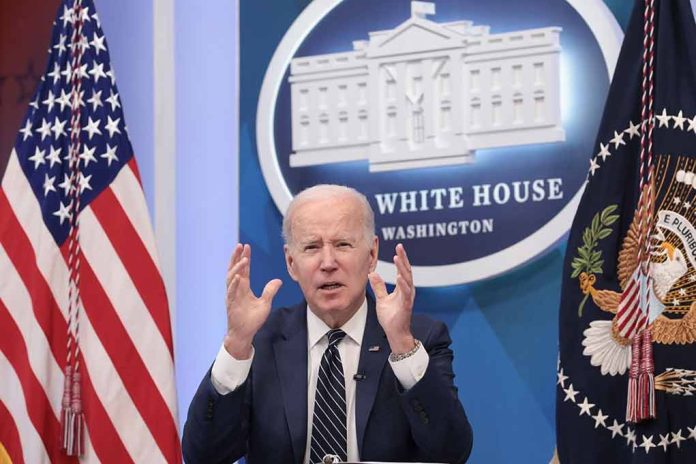 (UnitedHeadlines.com) –  President Joe Biden's latest comments about building railroads across oceans are making headlines.
In his "off-script" comments, made during the annual League of Conservation Voters dinner in Washington, D.C., on June 14, Biden said there were plans for building a railroad "from the Pacific across the Indian Ocean." He stated that there are plans to make the world's largest solar plant in Angola. As soon as Biden finished the comment, he stated, "I'm gonna get in trouble."
RNC Research tweeted a video of Biden's remarks which were met with a quick reaction on social media, with one user on Twitter asking if carton character SpongeBob would be the conductor of the more than 8,000-mile ocean train.
DeSantis War Room, one of Florida Governor Ron DeSantis' accounts, tweeted that Biden's plan was "ambitious."Abigail Marone, press secretary for Missouri Sen. Josh Hawley, tweeted "Put Grandpa to bed."
Biden's comment even got the attention of Fox News host Sean Hannity who questioned what exactly Biden was talking about.
Other puzzled Twitter users questioned why American taxpayer funds would be paying for a solar plant in Angola.
While there is no plan to build a railroad across the ocean, this wasn't the first time Biden made the mistake. During a meeting with British Prime Minister Rishi Sunak, he said he was planning to build a railroad "from the Pacific Ocean" before he corrected himself saying from the Atlantic. The talk of the railroad came up as the two discussed climate change initiatives around the world including a plan to build a railroad in Africa, which is surrounded by the Mediterranean, the Red Sea, and the Arabian Sea, as well as the Atlantic and Indian oceans, not the Pacific.
During the League of Conservation Voters event, Biden picked up endorsements for his 2024 re-election campaign from the Sierra Club, NextGen PAC, the League of Conservation Voters Action Fund as well as the NRDC Action Fund.
Copyright 2023, UnitedHeadlines.com