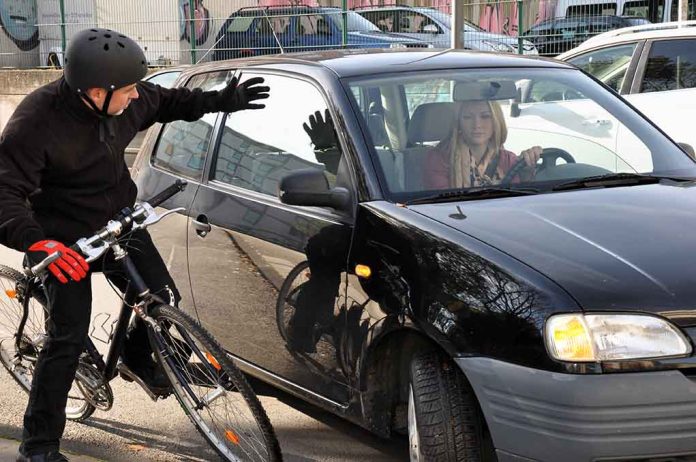 (UnitedHeadlines.com) – Road rage is a problem many people are all too familiar with. In most cases, the incident results in a heated exchange of words, some vulgar sign language and, rarely, a physical altercation. Rarely does it end in murder.
In September of 2020, 32-year-old Theodore Edgecomb shot and killed Jason Cleereman, a 54-year-old immigration attorney. According to the defendant, the victim called him a racist slur and was aggressive, leading him to shoot the lawyer in self-defense.
The victim's wife, Evanjelina Cleereman, was in the vehicle with her husband and claims Edgecomb veered into their lane. She asserts the defendant was the aggressor in the situation, approaching the car and punching her husband in the face.
Cleereman died from a gunshot wound to the head. According to prosecutors, Edgecomb wasn't supposed to have a gun in the first place due to pending criminal actions. The defendant also left the scene and fled to Indiana, where he dumped the gun — which prosecutors pointed out was hardly the actions of an innocent man.
The defense heavily relied on Edgecomb's claims of racism and self-defense, but a diverse jury found him guilty of first-degree reckless homicide. Judge David Borowski read the jury's verdict on January 26.
GUILTY: Theodore Edgecomb convicted of first-degree reckless homicide in the road rage shooting death of Jason Cleereman in Milwaukee⚖️ Did the jury get it right? #CriminalJustice #verdict #homicide #TheodoreEdgecombTrial #JasonCleereman #justice #CourtTV #Milwaukee #GUILTY pic.twitter.com/rNrD0uYLHF

— Joy Lim Nakrin (@JoyCourtTV) January 27, 2022
Do you think the jury made the right decision? Should they have charged Edgecomb with intentional homicide instead? Email us what you think the jury should have done at [email protected].
Copyright 2022, UnitedHeadlines.com