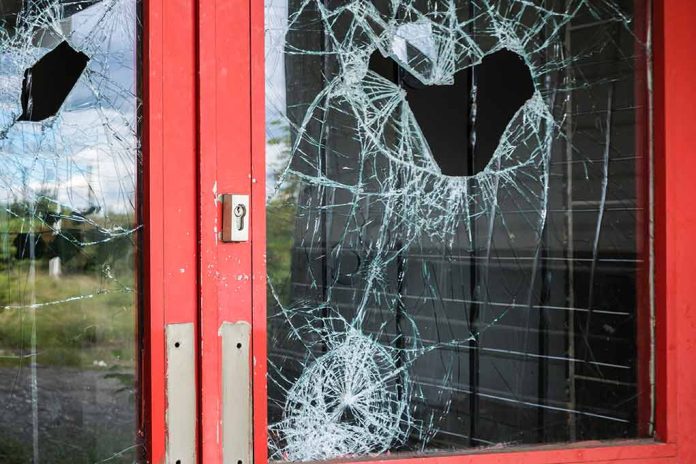 (UnitedHeadlines.com) – Employees at Taste by Spellbound in Avon, Connecticut, had an unexpected hungry helper arrive while loading cakes into a delivery van.
On May 24, as workers loaded cakes into the delivery van, a bear wandered into the open garage door at the rear of the store. Video footage from a nearby security camera shows the bear lingered outside the door before deciding to venture in.
The employee stated that the bear retreated after shouts, but returned three times. The employee exited the area after the bear charged toward her. Other employees also attempted to walk around to the side of the store to scare the bear but ran away after being scared by the bear.
On its third time entering the store, the bear is seen on video dragging a box of cupcakes out of the garage. Several other bakery items are seen on the ground. The bear was seen in the video eating his stolen desserts.
The bear was ultimately scared away from the store after a car honked, giving employees a chance to close the garage door on the store. The bear was gone by the time law enforcement as well as the Connecticut Department of Energy and Environmental Protection officials arrived.
A post on the store's Instagram page says that "they are more scared of us than us of them" and that the employees all think "bears are cute" at this point.
The Avon location is one of three Taste by Spellbound locations across the state.
This is not the only recent report of a bear in Connecticut. In April, a 74-year-old woman in a Hartford suburb was attacked by a bear while walking her dog, suffering bites to both her legs and arms.
In 2022 in Connecticut there were 67 reports of bears entering homes, an increase from 2020 when there were 45 reports. In 2022, there were sightings in 158 of the 169 towns in the state. According to the state DEEP, there are about 1,000-1,200 black bears in Connecticut.
Copyright 2023, UnitedHeadlines.com