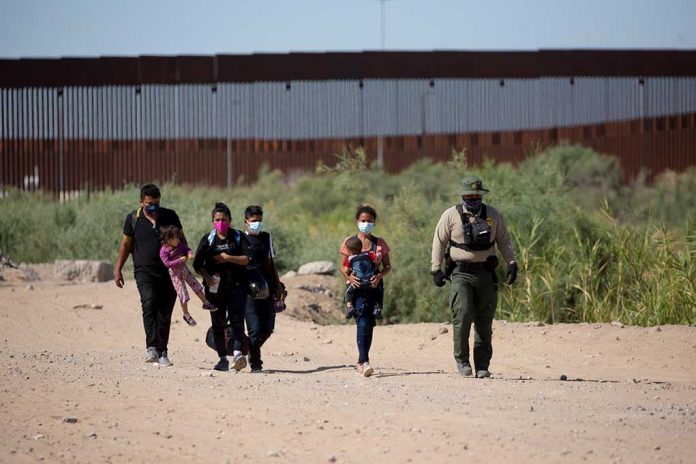 (UnitedHeadlines.com) – There's no question that the Biden administration's approach to the Southern Border starkly contrasts that of the Trump administration. As a result, the number of illegal immigrants the US Customs and Border Protection (CBP) arrests shot up over the past 16 months after achieving a record low of only 17,106 in April 2020.
In August, the CBP arrested 208,887 people, marking the agency's second consecutive month over 200,000 arrests. It's well on the way to setting a new annual record.
August's numbers did come in slightly lower than those captured in July. Yet, according to data released by the CBP, they're still sitting at around four times the official count from 2020 across the same time frame.
Former President Donald Trump warned of threats associated with illegal aliens entering the country from the southern border many times. His concerns seem to be coming true. The CBP caught two people attempting to smuggle $418,000 worth of black tar heroin into the country on August 26, 2021. Officers seized the associated contraband during the incident.
#ICYMI: On August 30, CBP officers in Eagle Pass (TX) stopped a smuggling attempt of $418K worth of black tar heroin. Officers seized the 15lbs of heroin from two people arriving by vehicle from Mexico.

More information: https://t.co/Id0RxbqipY pic.twitter.com/EsKyKY0qPl

— CBP (@CBP) September 13, 2021
The wave of undocumented workers rapidly grew after President Biden made radical changes to US immigration policy. As of now, his administration is on course to break the fiscal year record number of immigrants; this year's number currently sits at 1.54 million. The official record, set in 2000, stands at 1.64 million instead.
Copyright 2021, UnitedHeadlines.com