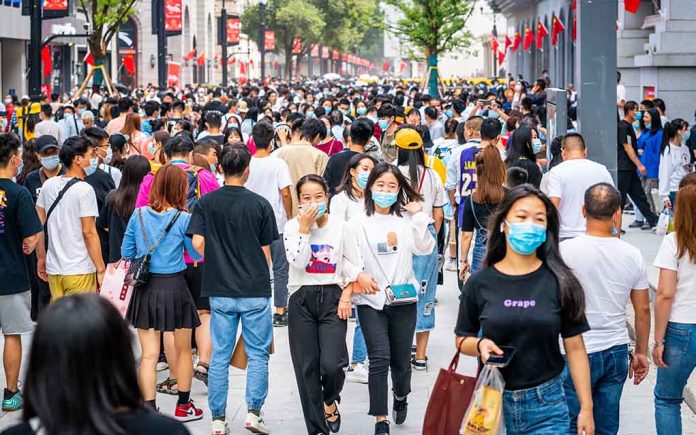 COVID-19 Outbreaks Surging Again in Chinese Cities
(UnitedHeadlines.com) – China has seen some of the strictest COVID-19 control regulations. Still, it continues to struggle with outbreaks, and recent surges have prompted temporary lockdowns while residents undergo mandatory testing. High infection rates in cities like Guangzhou, where a good portion of the region's manufacturing takes place, have been particularly concerning.
China's "zero-tolerance" approach to COVID-19 infections has led to extended lockdowns in the recent past, with residents of cities like Shanghai enduring up to two months of isolation at a time. The most recent outbreaks have left massive spikes in infections despite the extreme measures.
China ramps up COVID-19 restrictions again as outbreak worsens amid sinking economy https://t.co/RlI8hliCXy

— UPI.com (@UPI) November 10, 2022
UPI reports the Guangdong province, home to the city of Guangzhou, saw 500 new illnesses and 2,500 asymptomatic cases in one week. The nearby municipality of Chongqing reported its COVID-19 numbers had gone from nine to 750 in less than a month. The government currently closes off areas where a person has tested positive, requiring everyone nearby to provide negative test results before allowing them free access to markets or other areas. The process is lengthy and expensive, and residents never know when — or where — a positive test might crop up nearby and force them back into lockdown.
Some people are expressing concerns over the long-term effects of such measures on China's economy. Given the worldwide impacts of the pandemic, coupled with the Russian war in Ukraine, inflation and high energy costs are affecting countries all across the globe.
Reuters reports the strain has forced some areas in China to charge residents for their COVID-19 tests. Factory workers in certain areas might also be living on-site to allow for quarantining while production of vital electronics parts continues.
China has suffered stunted growth due to its policies, and experts fear the nation could weaken even further economically if the zero-tolerance policy continues.
Copyright 2022, UnitedHeadlines.com