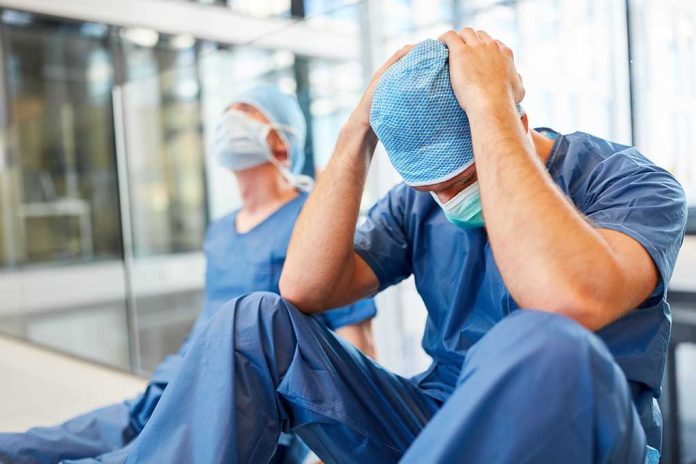 Doctor Burnout Has Reached Alarming Levels, Research Says
(UnitedHeadlines.com) – The impacts of COVID-19 have reached far beyond the virus' death count, with the pandemic's emotional toll leaving behind its own devastating wake. Physician burnout became a growing problem as hospitals became overwhelmed and medical workers found themselves working around the clock to save lives. A recent study released by Mayo Clinic offers insights into the toll affecting US doctors.
The study included 2440 physicians who completed a survey in 2021. Researchers weighed the responses against the same questionnaires taken in 2011, 2014, 2017, and 2020. The results indicated depression averages grew by 6.1%, self-reported emotional exhaustion rose by 38.6%, and feelings of depersonalization increased by 60.7%. A total of 62.8% of respondents reported at least one symptom of burnout, compared to 38.2% who experienced the phenomenon the previous year.
Physician Burnout Has Reached Distressing Levels, New Research Finds: Nearly two-thirds of doctors are experiencing at least one symptom of burnout, a huge increase from before the pandemic. But the situation is not irreparable, researchers say – NYTimes https://t.co/SnvgPE88Mu

— Johns Hopkins Berman Institute of Bioethics (@bermaninstitute) September 29, 2022
People employed in stressful jobs are already at a higher risk of burnout, but long hours and a poor work-life balance can quickly send the most dedicated workers over the edge. Add chaotic, uncertain, or monotonous elements into the mix, and burnout becomes even more likely.
Researchers have been looking into ways to combat physician burnout. The Mayo Clinic recommends people suffering from the condition seek the support of peers and loved ones, engage in relaxing activities, and practice daily mindfulness. The Cleveland Clinic suggests sufferers find meaningful endeavors to put their energy into, like a hobby or volunteer work, to help fill the void.
Copyright 2022, UnitedHeadlines.com