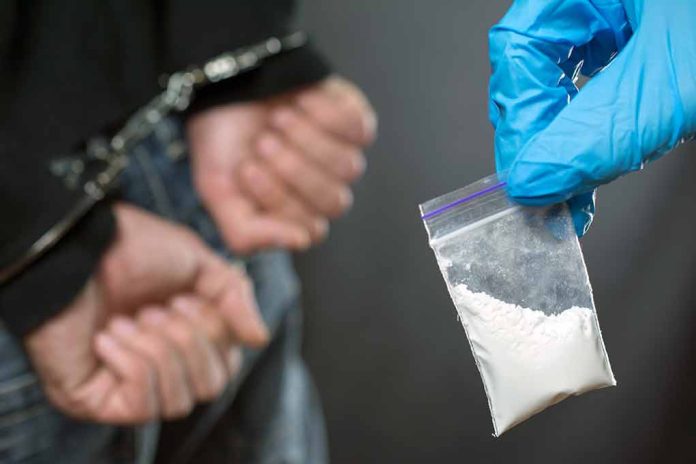 (UnitedHeadlines.com) – Musician Travis Michael Leake, 51, is the latest U.S. citizen to be arrested in Russia.
Leake is being charged with suspicion of drug trafficking and is suspected of selling the drug mephedrone, which has similar effects to cocaine or ecstasy. He is accused of being involved with a "drug dealing business involving young people."
A video posted by Russian state media shows Leake and a friend, Valeria Grobanyuk, being taken into custody during a drug raid. The video shows that during his arrest, Leake stated, "I don't understand why I'm here."
A U.S. State Department email about the arrest stated officials from the U.S. embassy attended Leake's arraignment.
Moscow's Khamovniki District Court has ordered that Leake be held for at least two months in pre-trial detention, until Aug. 6. Leake could face up to 12 years in prison, according to Russian state media.
Leake, who has lived in Russia for a decade, originally moved to Moscow to work as an English teacher. He also helped Russian bands to translate songs. He was a singer in the Russian rock band, Lovi Noch. Leake also appeared on an episode of "Parts Unknown," a food show hosted by the late Anthony Bourdain, in 2014. However, Russian media is claiming Leake is a "former U.S. paratrooper."
On March 29, Wall Street Journal reporter Evan Gershkovich was arrested and charged with espionage. Earlier this month, Russia extended his detention by another three months.
For four years, U.S. Marine veteran Paul Whelan has been in Russian custody after being convicted of charges of espionage. He was sentenced to 16 years in prison.
In February 2022, WNBA player Brittney Griner was arrested after vaping canisters with cannabis oil were discovered in her luggage at Moscow's Sheremetyevo Airport. She was convicted and sentenced to 10 years of hard labor. After 10 months incarcerated in Russia, the Biden administration agreed to a prisoner exchange, releasing Viktor Bout, a convicted Russian arms dealer whose nickname is "the merchant of death."
Copyright 2023, UnitedHeadlines.com