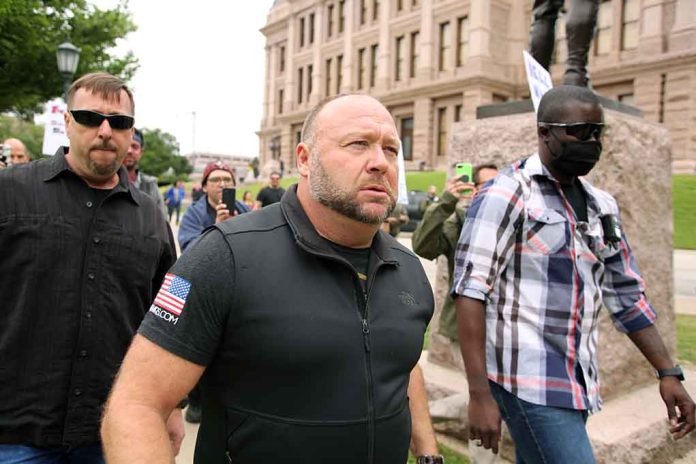 Massive Leak – Top Show Host Compromised
(UnitedHeadlines.com) – Alex Jones is in the middle of a lawsuit after the parents and families of the 2012 Sandy Hook school shooting sued him for damages. The media personality had been skeptical of the massacre, pushing the idea it was a hoax and all the families were actors. The plaintiffs' legal team has the upper hand now after the InfoWars host's attorney accidentally sent them sensitive documents.
At one point, he was making $800,000 a day: After Alex Jones' lawyers accidentally leak years of emails, Infowars financial documents are revealed in court https://t.co/g0ViW3CHmp via @nbcnews

— Deborah Blum (@deborahblum) August 3, 2022
The victims' parents are looking for a $150 million settlement, but Jones claims even $2 million would sink him. The host's Free Speech Systems company recently filed for bankruptcy in July. The conspiracy theorist has also claimed the most his company has made in a single day was $200,000.
However, Jones's lawyer mistakenly sent all of his client's phone contents to Mark Bankston, the attorney representing the plaintiffs. After receiving the files, Bankston asked the InfoWars host if he knew what perjury was, as the documents revealed that he had lied about several issues — including how much his company made. According to the information on Jones' phone, his business profited $800,000 in one day, far more than the $200,000 he claimed.
Jones had previously mentioned Facebook and YouTube deplatforming him, claiming it harmed his company. But Bankston, armed with the new information, countered the claim, revealing InfoWars profited from the development. Moving forward, the case isn't looking good for the conservative host.
Could this be a nail in the coffin for Jones? Will the court rule in favor of the Sandy Hook victims' families?
Copyright 2022, UnitedHeadlines.com