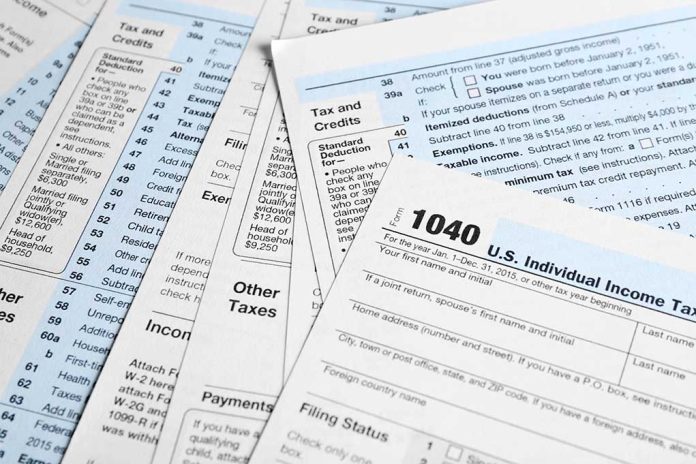 (UnitedHeadlines.com) – Disagreements over taxes in the United States have led to some radical ideas on both sides of the political aisle. The recent enactment of the Inflation Reduction Act has left many Republican lawmakers scrambling for damage control, but their efforts to trample the legislation aren't likely to go far. Representative Earl L. "Buddy" Carter (R-GA) hopes his introduction of HR 25, or the Fair Tax Act, will eliminate the problem by doing away with the tax code altogether.
Carter introduced the bill on January 9 "[t]o promote freedom, fairness, and economic opportunity" he believes current tax codes violate. In place of the annual filing system, US residents would pay a flat 23% sales tax on all purchases and services. Eliminating payroll and income taxes would allow the government to gut the IRS, saving taxpayers even more of their hard-earned cash and sparing residents the annual hassle of gathering their receipts and tax stubs for filing returns.
NEW: Here's what you need to know about the GOP bill to abolish the tax code https://t.co/4kYlWZaziL pic.twitter.com/eXynquzmEu

— The Hill (@thehill) January 24, 2023
The Fair Tax Act originated in 1999, introduced by former Congressman John Linder (R-GA), and aims to balance the system by ensuring everyone pays their fair share. Supporters allege current taxes are disproportionately burdensome on low-income households. They feel the government has created a "weaponization of the IRS," engendering the need for a less punitive system. Better tax codes would promote investments, spur economic growth, and improve Americans' overall standard of living, according to proponents.
President Joe Biden slammed the bill during his January 12 remarks. According to the commander-in-chief, the legislation would hurt middle-class Americans by boosting the price of all goods. He believes the changes, which would also eliminate estate and gift taxes, would disproportionately benefit wealthy residents, who own more land than the average person and currently pay taxes on property transfers. Biden clearly promised to veto the Fair Tax Act if it makes its way through the Senate to his desk.
Copyright 2023, UnitedHeadlines.com