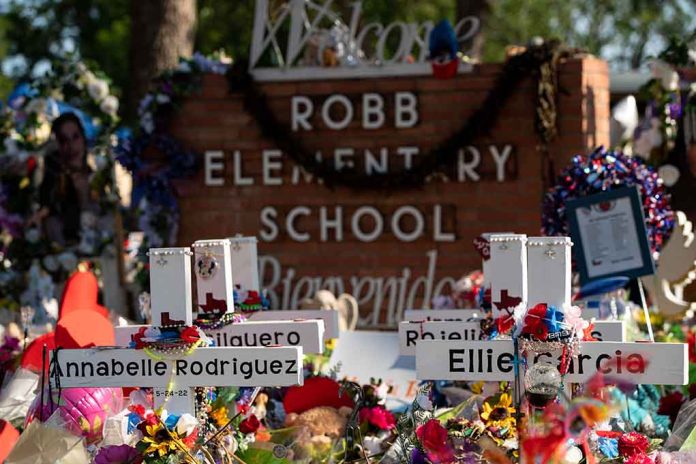 Innocent Children DEAD – Officials May Finally Pay A Price
(UnitedHeadlines.com) – On May 24, 19 children and two teachers lost their lives during a school shooting in Uvalde, Texas. Responding police face accusations of standing around and doing nothing while the gunman was savagely killing the students and their educators. The families of the victims are now taking action.
On Sunday, August 21, Attorney Charles Bonner of the California firm Bonner & Bonner Law told KSAT 12 that he is filing a $27 billion class-action lawsuit on behalf of the victims' families. The civil rights attorney is going after anyone who he believes played a part in the massacre. He explained that includes gun manufacturer Daniel Defense, firearms seller Oasis Outback, the school police, Border Patrol, the Texas Rangers, the Department of Public Safety, and the sheriff's department.
Bonner also intends to include the school board, the City of Uvalde, and the City Council.
Tonight on the #NightBeat a $27B class action lawsuit announced on behalf of everyone effected by the Robb Elementary shooting. Attorney Charles Bonner is the lead filing attorney. He says the victims, survivors and their families had their constitutional right to life violated pic.twitter.com/c3VnyLbZjH

— Leigh Waldman (@LeighWaldman) August 21, 2022
Bonner told the news station that he believes people have "a right to life under the 14th Amendment" and accused the police of showing a "deliberate conscious disregard" for life. The attorney is not going to be fighting alone. Everytown, a gun safety organization created after the 2012 Sandy Hook massacre, will be helping him.
The suit will only include some families, meaning there could be more on the way. Bonner is waiting for the Department of Justice to wrap up its investigation, which is likely to occur in September, before filing.
Copyright 2022, UnitedHeadlines.com